Solar Panel Cleaning Robot
SOLAR SUNVA
The world's first folding type(*) solar panel cleaning robot, SOLAR SUNVA, has been born!
Focusing on the dirt on solar panels, which have been installed in increasing numbers in recent years, the World Scan Project has developed a robot that cleans over the panels. By washing off the stuck-on dirt such as bird droppings, pollen, fallen leaves and soil on the solar panels, it is expected to improve the power generation efficiency.
For this reason, solar panels are currently being cleaned all over the world, but most of the work is done by people's hand.
SOLAR SUNVA can automate the process of manual cleaning with robots. Automation allows for more panels to be cleaned, resulting in a more even finish. Because the robot is foldable, lightweight, and portable, it can be easily operated even when the solar panels are installed at an angle of 35 degrees. It can be used for power plants ranging from low voltage to special high voltage.
*Folding type = Foldable
Various problems with solar panels and
the need for cleaning of robots
Hot Spot Issue
Load on solar panels from bird droppings, pollen and fallen leaves, salt damage, yellow sand and volcanic ash

Issue of reduced power generation efficiency
Decrease in power generation efficiency due to dirt accumulation, hot spots, etc. and decrease in power sales revenue

Cleaning of solar panels by SOLAR SUNVA
Before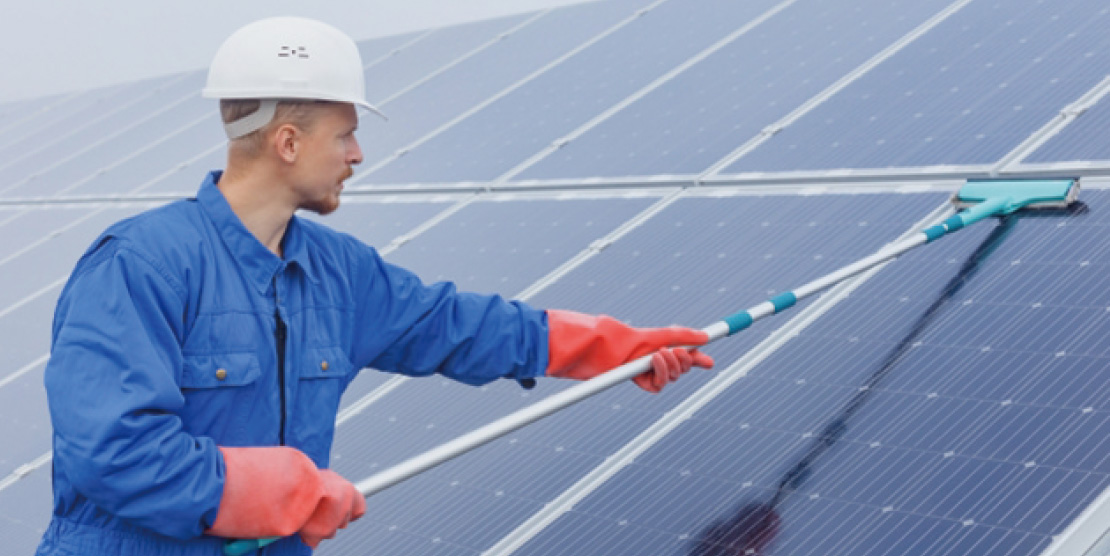 Conventional panel cleaning by manual labor
After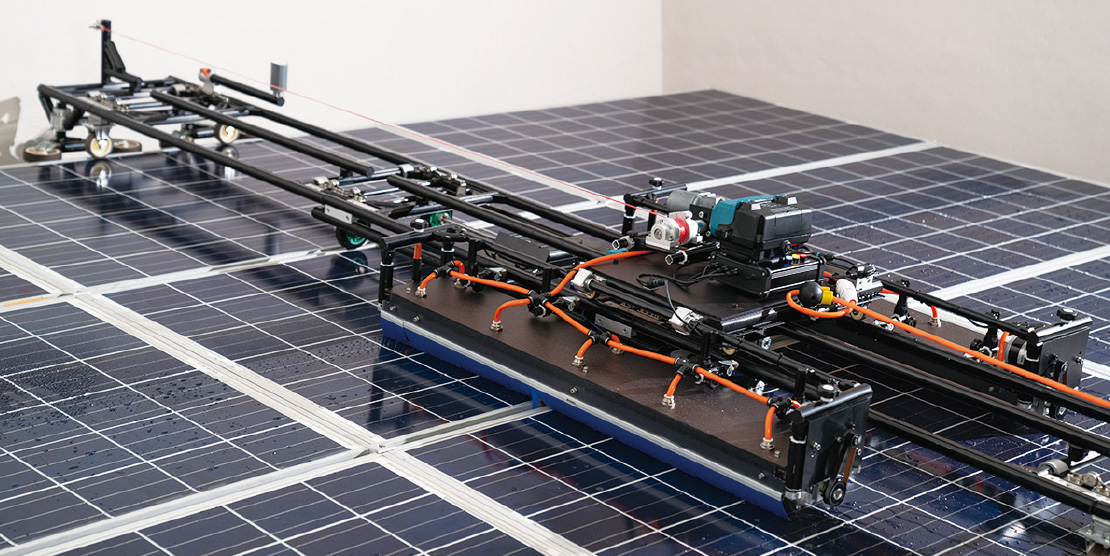 Cleaning of solar panels by SOLAR SUNVA
SOLAR SUNVA 's soft nylon rotating brushes and sprinkler sprays clean the surface of solar panels without damaging them, thus maintaining the highest power generation efficiency.
SOLAR SUNVA can clean a 1MW mega solar power plant in just a few days.
(Two staff members in operation)
Compared to manual cleaning and about one-eighth the amount of water consumption.
The soft nylon brush moves smoothly across the solar panels at a speed of 3 to 5 km/h while rotating 20 times per second. It consumes about one-eighth the amount of water compared to manual work by humans. For example, cleaning a 50MW solar panel consumes more than 3 million liters less water than manual cleaning.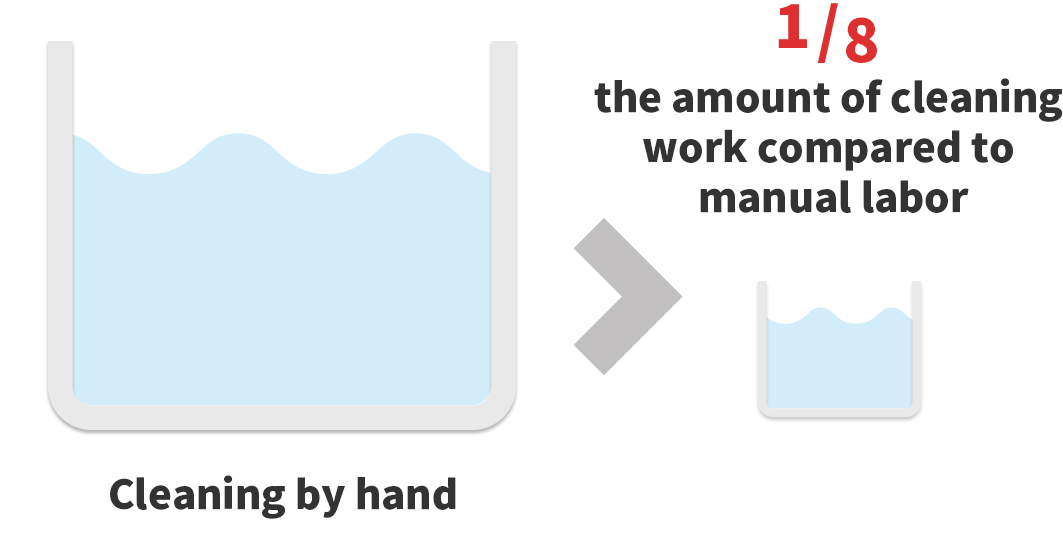 Simulation of quality change over time
As time passes, workers begin to get tired, resulting in reduced efficiency and uneven cleaning, but robots do not get tired and continue to work evenly to every corner of the panel. This reduces the burden on the operator and eliminates the risk of quality deterioration over time.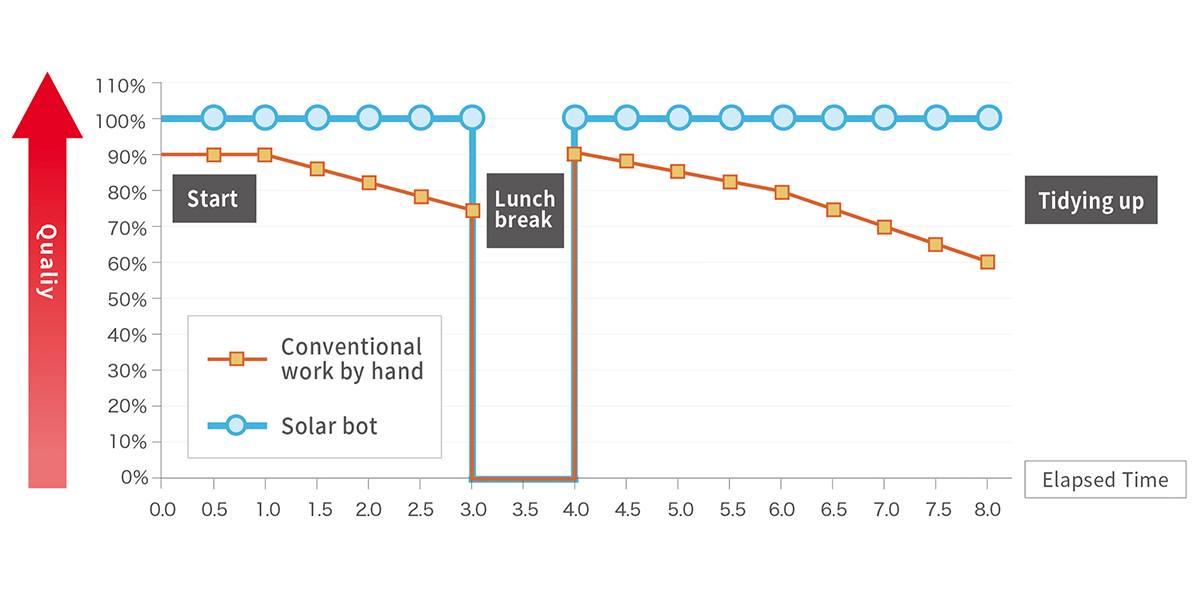 *1 Overall evaluation of cleanliness, presence of scratches, evenness, etc.
*2 The above is just an image and is not a quantification of the actual work.
SOLAR SUNVA's solar panel cleaning procedure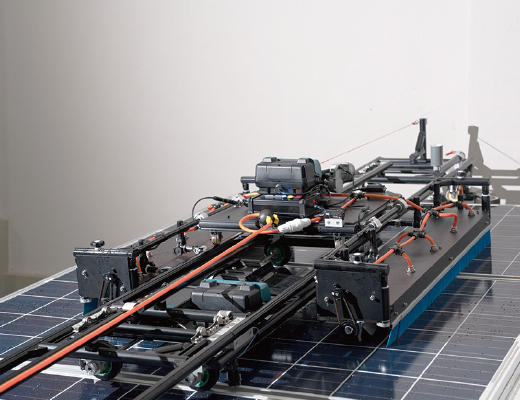 Transport and installation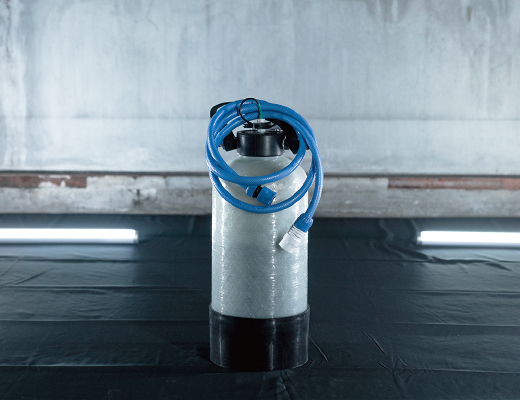 Remove impurities such as chalky from tap water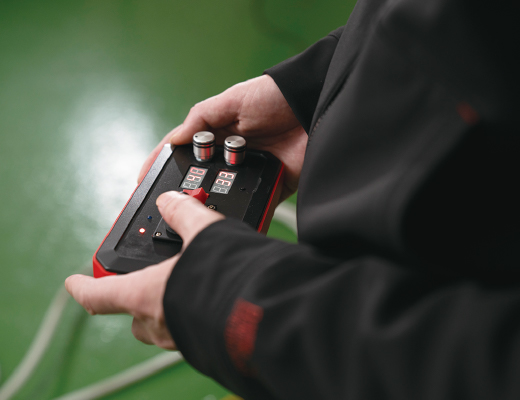 Cleanup start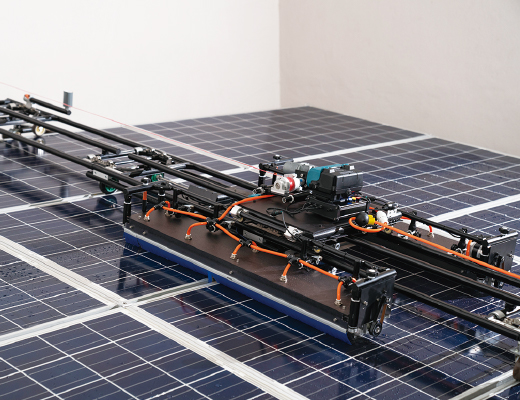 Rinsing with water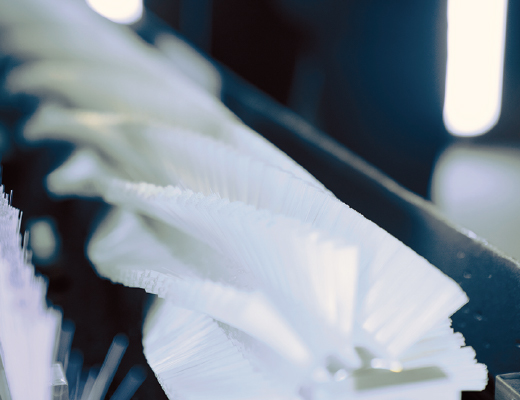 Brushing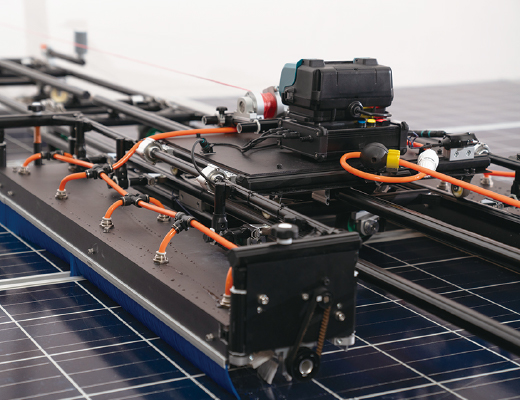 Wipe off the surface with a brush wiper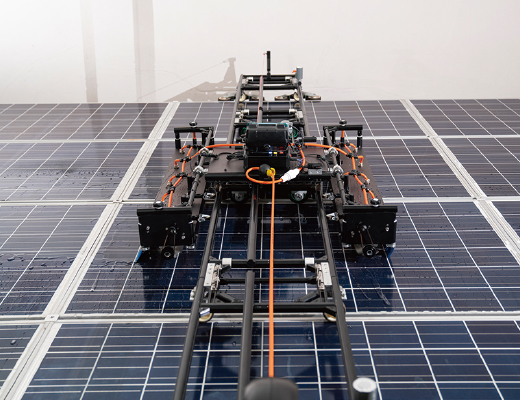 Finish cleaning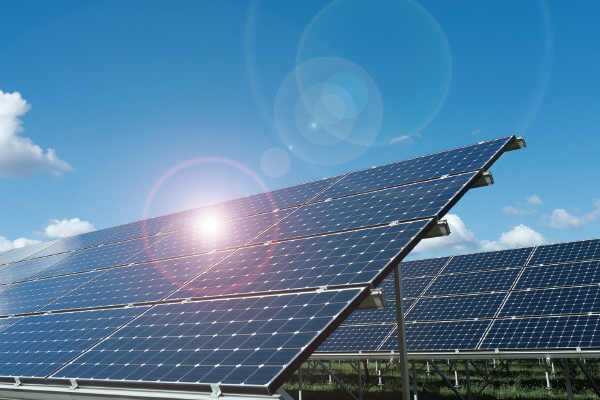 Anticipated effects
Maintain functions, protect assets, and increase power generation
How to install and operate SOLAR SUNVA
1
Installing the moving rails
Install the moving rails above and below the panels, and place the SOLAR SUNVA on top of them.
*The rails and the main unit are detachable and can be carried anywhere, so there is no need for any installation work.
2
Connect to the dedicated water tank
Attach the water hose to the SOLAR SUNVA main unit and connect the hose to the dedicated water tank.
3
With a switch on the remote control Automatic running
By simply pressing a switch on the remote control, the moving rails and the cleaning robot itself will automatically run up, down, left, right, and all over the solar panel.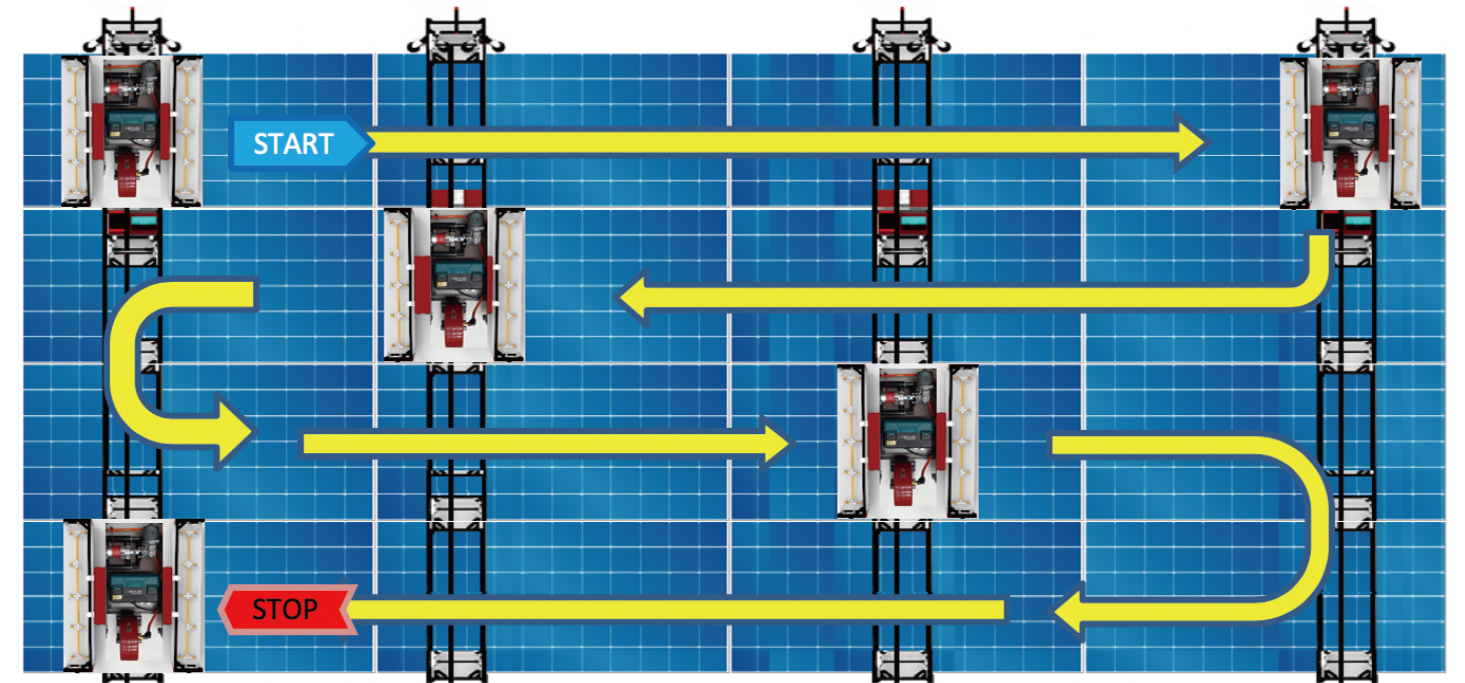 When the cleaning of the array is completed, the main body of the cleaning robot and the moving rails are removed, and the robot is carried to the next array and set, and then the work process from 1 to 3 is repeated.*Setting the robot to the next array takes about 3 minutes.
*1 SOLAR SUNVA cannot be used in some locations due to the shape of the panel or mount, or the environment of the installation site.
*2 The part of shape, color, etc. may differ in some cases due to specification changes.
Folding type solar panel cleaning robot
SOLAR SUNVA
Open Price

■ Part Number

SOLAR SUNVA

■ External dimensions

6m standard specification: 760mm (W) x 6495mm (D) x 356mm (H) (excluding washer)

4m standard specification: 760mm (W) x 4460mm (D) x 356mm (H) (excluding washer)

Standard machine body (4/6m common): 972mm (W) x 1140mm (D) x 400mm (H)

■ Weight

6m standard specification: 44.04kg (excluding washer and 4 batteries) 67.98kg (including washer and 4 batteries)

4m standard specification: 34.6kg (excluding washer and 4 batteries) 60.34kg (including washer and 4 batteries)

Standard specification (4/6m): 21.03kg (excluding batteries) 60.34kg (including 2 batteries)

■ Wireless communication

Radio standard: 920MHz band specified low power radio standard ARIB STD-T108 compliant

Frequency: Sub-Giga, 920 MHz band (920.6 to 923.4 MHz, 15 channels)

■ Water spray flow rate

0 ℓto 7ℓ/min: Depends on the pump used or the head of the water supply.

■ Battery

Rechargeable lithium battery (one or two Makita BL1850B batteries)

■ Battery life

Repeated charge/discharge approx. 500 times

■ Rated voltage

DC18V

■ Continuous use time

6m standard specification: approx. 180 minutes (when four BL1850B (18V/5Ah) batteries are used simultaneously and the temperature is 25°C)

4m standard specification: approx. 200 minutes (4 BL1850B (18V/5Ah) batteries used simultaneously at 25°C)

■ Battery charger

Input: AC100V 50/60Hz
Output: DC7.2 - 18V 9A x 2
Charging time: 45 minutes (when using 1 or 2 batteries simultaneously)

■ Accessories

Two BL1850B batteries (The specifications of this product are subject to change.)

■ Others

Manual driving (fastest): 8cm/second, 4.8m/minute, 228m/hour

Auto travel (fastest): 20cm/second, 12m/minute, 720m/hour

Brush rotation speed: 600 rpm (per minute)
You can see a video of the
SOLAR SUNVA in action.
Six vertical panels are being cleaned on autopilot.
As an additional option, a thermal drone can be flown to inspect the panels from above at the same time as the cleaning robot, adding value to the system.